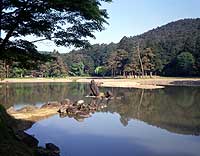 | | |
| --- | --- |
| Pseudonym reading | New Year's Eve |
| Specified type | Country designation |
| Type | Special victory |
| Designated date | November 12, 1957 |
| Specified details | (N) November 12, 1957, (special name) May 23, 1954 |
| quantity | |
| location | Hiraizumicho Hiraizumi Osawa |
| owner | Outside Moshi Temple |
| Holding group | |
| Management organization | |
| home page | Hiraizumi's cultural heritage |
Overview
It is said that Moshi-ji Temple was completed by Oshu Fujiwara, who was first built by Kiyoken, and it was said to have been completed by the second generation of basics and the third generation of Hidesens, and the large pond (Oizumi pond) is the center of the Heian period style. I'm telling you now.
In the garden, Oizumi Pond is located between Namdaemun and Jindo Enryu-ji Temple, and is arranged with the method of Heian period garden centering on the pond extending to the east and west.
In Oizumi Pond, there was an antibridge in the south and north of Nakajima.
Nakajima is long in the east and west, extends in the east, and forms a jade-like ball, and turns Kashiwahama around it.
Water flowed south from Benten Pond in the northeastern part of the garden and poured into the pond from the belfry site.
Water is a normal flow from northeast to southwest, so Dejima sticks out to the pond in the southeastern part, and Tateishi and Fushiishi are combined at the end of it to form Kashiwahama.
On the other hand, in the southwestern part of the hill, the two-placed pile of rocks piles up a lot of stones, and it completely retains the feature of the pure garden, such as creating a majestic rough landscape.
Moshi Temple Garden is one of the most complete Heian-style gardens in the country, and is the only one of the most complete Pure Land Garden remains, and is a very important cultural heritage in Japanese cultural history or landscaping history.