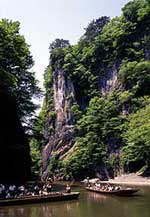 | | |
| --- | --- |
| Pseudonym reading | Gebikei |
| Specified type | Country designation |
| Type | Good looks |
| Designated date | October 8, 1925 |
| Specified details | |
| quantity | |
| location | Ichinoseki City Higashiyamacho Nagasaka character town back |
| owner | Outside Ichinoseki City |
| Holding group | |
| Management organization | Ichinoseki |
| home page | Ichinoseki Tourism NAVI |
Overview
The Vainosai Valley is a valley where thick limestone layers formed in the Paleozoic age were eroded by the water of the Sand Iron River.
The gorge is surrounded by cliffs and cliffs about 100m high, and the water of the sand iron river which flows through it flows quietly, and there are many waterfowls, including fish, such as yamame, haya and ayu. It is a scenic spot where natural conditions are well preserved, such as the appearance of
The cliffs and hillsides facing the river are covered with rich hardwoods, with white thread waterfalls in places, and the caves open.
Near the end, there is a large limestone cliff with a limestone rocky mass (starch cave) in the middle.
Because it resembles the shape of a lion's nose, it was named a rabbit nose.