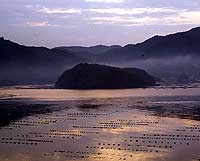 | | |
| --- | --- |
| Pseudonym reading | Sanjijima |
| Specified type | Country designation |
| Type | Good looks |
| Designated date | August 27, 1943 |
| Specified details | |
| quantity | |
| location | Ofunato City Kashiwajima |
| owner | Outside Ofunato City |
| Holding group | |
| Management organization | Ofunato |
| home page | |
Overview
There are four large and small islands covered with beautiful red pine forests in Ofunato Bay, but the one closest to the bay entrance is the largest island.
The island is about 1.6 km from the bay entrance, about 300 m from Shimofunato, about 370 m north to south, about 100 m east to west, flat at the top, and a late Cretaceous Shirasu Period of the Mesozoic It is a part of a marine terrace consisting of rocks, shales, etc.), and it became an island by the subsequent subsidence of land.
The island is mostly covered with a natural red pine forest, and the forest is a mixture of mulberry trees such as azalea, yamamomi and konara.
If you look far, the lined figure of the Japanese red pine will reminiscent of a coral forest, and in the fall, other plants will fall in color and add color.