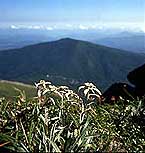 Pseudonym reading
The only thing you need is Hayachine and Yakushi
New service
Specified type
Country designation
Type
Special natural monuments / plants
Designated date
February 7, 1928
Specified details
(Ten) February 7, 1955 (Special sky) June 19, 1948 (Addition and change of name) December 19, 1990
quantity
location
Tono-shi, Hanamaki-shi Ohsako-cho, Miyako-shi
owner
Country
Holding group
Management organization
home page
Overview
Mt. Hayaike (1913.6m) is located in the center of Kitakami Mountains and is the highest peak of this mountain and is a famous mountain that has long been popular as a sacred place for mountain faith.
The flora of Motoyama is characterized by the occurrence of dry plant communities that contain a number of valuable factors, including plants unique to the serpentine mountainous area, and those that have already become extinct in other areas, etc. can give.
For this reason, Mt. Hayaike has many species that are valuable in plant distribution, such as unique species, what is the southern limit on distribution, and rare varieties on distribution.
In addition, Yakushidake (1644.9m) located about 3 km south of Mt. Hayaike Mine consists of a gentle granite body, and a clear difference can be seen from Mt. Hayaikemine.
That is, there are no rare plants unique to the serpentinite area, and while Mt. Hayaike gives priority to Aomomoritomatsubi in Mt. Hayaike, there is a clear difference between the two vegetations such as Aomomoritomatsu takes up most in Yakushidake Is recognized.
image