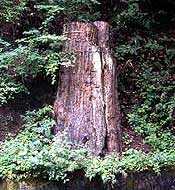 Overview
It is on the cliff on the left bank of the Neh River, east of the Ichinosemachi Nere district.
The silicified wood stands upright in the sandy tuff layer belonging to the four role zone (New Tertiary Miocene, approx. 15 million years ago), and the upper half and bottom of the trunk are exposed. It is the other side of the half.
The species is sekoia megi and it seems to have formed large forests in various places during the Tertiary period.
The bottom of the trunk and the stock were preserved, and the size of the exposed part was 2 m in diameter, 7 m around the eye trunk, and 6 m 40 cm in height. The upper part was broken and several vertical cracks occurred.
For this reason, restoration repair / collapse prevention work of the siliceous wood upper part was carried out in 1974 (1974), and it has reached the present.
Rooted large silicified wood is Japan's largest as an upright silicified wood, and its shape is also extremely valuable.