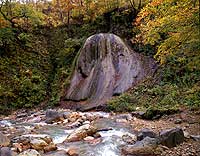 | | |
| --- | --- |
| Pseudonym reading | How is your health? |
| Specified type | Country designation |
| Type | Special natural monuments / geological minerals |
| Designated date | February 28, 1941 |
| Specified details | (Ten) February 28, 1957 (Special sky) June 19, 1972 |
| quantity | |
| location | Kitakami city Wakamachi Iwasaki Nitta |
| owner | Country |
| Holding group | |
| Management organization | |
| home page | |
Overview
> Natsunoyu Onsen is a hot spring located upstream of the branch summer Oyukawa in Wakagawa.
The designated area is a 30m-wide area along the riverbank from 10m upstream of Natsunoyu Onsen "Tensu no Yu" Lime Flower Dome to "Janunoyu no Taki" along the right bank of Natsunoyu River.
Limestone is the one that calcium carbonate contained in the hot spring adheres to the rock surface due to the rapid pressure and spring temperature when it springs out to the surface.
Within the hot spring area, there are hot spring springs everywhere, and large and small limestone deposits are observed. Among them, the "Tianyu no Yu" lime flower dome is the largest of the fountain towers in Japan.
Viewed from the front, it has a nearly symmetrical frusto-conical shape, the top is almost flat, the diameter is about 7 m, the diameter of the lower base is about 25 m, and the height is 17.6 m. There is.
In Japan, there are many hot springs where lime blossoms can be found, but they are developed on a large scale like lime blossoms in summer hot springs, and huge ones such as "tengu no yu" lime blossom domes are outside. There is no example and it is extremely valuable.