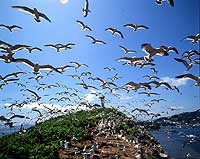 | | |
| --- | --- |
| Pseudonym reading | Sanganji Oomizu Nagori and Hikaru Rose Mitsubame Hanzokuchi |
| Specified type | Country designation |
| Type | Natural monuments and animals |
| Designated date | December 24, 1935 |
| Specified details | |
| quantity | |
| location | Kamaishi City Hakozakicho |
| owner | Kamaishi |
| Holding group | |
| Management organization | Kamaishi |
| home page | Kamaishi City (Sanuki Island) |
Overview
Kashiwajima is a granite islet located about 1 km southeast of Hirota Pass.
This island was covered with many greens such as camellias and toberas in the past, but now most of the trees wither due to sea cats and other seabirds, and only grasshoppers, mugworts and gramineous plants grow .
A sea cat is a kind of seagull, about 40 cm long, about 35 cm long, with yellow legs and beaks, and a red beak tip.
The back is blue-gray and there is a black band at the tail.
It gathers on the breeding ground every year from February to March, spawns from May to June, and raises chicks.
The nest is a poor one with some dead grass in the rock pits.
Two to three eggs are often found in the nest.
It hatches in early June and becomes adult birds in mid-July.