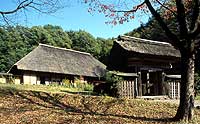 Pseudonym reading
New Year's Eve
Specified type
Country designated / important cultural property
Type
Building
Designated date
May 29, 1965
Specified details
2 buildings
quantity
location
Kitakami City Flower
owner
Kitakami
Holding group
Management organization
home page
Hiraizumi's cultural heritage
Overview
Attached to the various items on the floor (Jan. 13 13), one front gate, one after bill (Kyoho April 15 has a note of Hitachi)
Main storey row 21.3m, beam 11.6m.
寄 茅 葺.
The Hano family has a reference book of Kyosho 13 (1728), but from this memorandum, the construction age is expected to be around Kyosho 13.
It is a typical farmhouse of a straight house, a typical flat in the former Sendai Territories of the prefecture.
Front gate Gatsuma, a doctor of medicine.
It is considered that the building age is 5 years from Kamotag.
From the place where the medicine doctor is the front gate, it is thought that in the past it kept a fairly high style.
Kitakami City took over what was previously in Kitakami City Kuchiuchi Town, and has now been relocated to Kitakami Michinoku Folk Village.