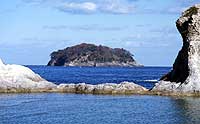 | | |
| --- | --- |
| Pseudonym reading | HIDESHIRO KUROSHISHIMATSU HIMECHA HENCHOKUCHI |
| Specified type | Country designation |
| Type | Natural monuments and animals |
| Designated date | December 24, 1935 |
| Specified details | |
| quantity | |
| location | Miyako city Chigasaki |
| owner | District sharing |
| Holding group | |
| Management organization | Miyako |
| home page | Miyako City (Hide Island) |
Overview
Hiji Island is a small island floating about 600 m east of the Hiji Island area.
The circumference is about 1.8 km, the top is about 50 m, and the top is flat.
Geologically, Mesozoic Cretaceous sandstones and conglomerates are deposited, and beautiful streaks can be seen on the cliff surface.
The island is covered with a broadleaf forest with mixed red pines, and Sasa species and plants grow densely under the forest.
The Kurokoshijiro honeybees have nest holes about 1 m deep at the roots of these trees and where the undergrowth grows.
This bird belongs to the honeybee family, is dark in color, and is called Crocoshigiro because its tail feathers are white.
I flew off the island early in the morning, asked for food on the ocean, and returned to the island after sunset.
Every year, she flies to the island around May and leaves the island around October after spawning / bringing.
The total number of honeybees in Hiji Island is estimated to be about 10,000 from the distribution of burrows.
It is known as the breeding ground of the black-crested ray honeybees in areas that are totally different from the islands of Hawaii and the Galapagos Islands, as well as the Madila Islands and the Azores Islands on the western coast of Africa.
The fact that this bird breeds on Hiji Island is extremely valuable in terms of the distribution of breeding sites.