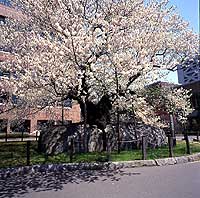 | | |
| --- | --- |
| Pseudonym reading | Moriokashi Shizakura |
| Specified type | Country designation |
| Type | Natural monuments and plants |
| Designated date | March 7, 1923 |
| Specified details | |
| quantity | |
| location | Morioka city circle |
| owner | Country |
| Holding group | |
| Management organization | |
| home page | |
Overview
Ishiwaki-zakura is in the front garden of the Morioka District Court in the center of Morioka.
It is considered to be the residence of Morioka Fushi Kita supervisor.
This cherry is a higanzakura, about 350 years old, grown in a huge granite fissure.
Granite which sandwiches a tree is a huge thing of 7 m 20 cm in long diameter, 4 m in short diameter, 1 m 70 cm in height from the ground, and 21 m in circumference.
Tree height is approximately 10 m.
The trunk of the tree flattens like a chopping in the fissure, and it suddenly thickens when it comes out of the rock and divides into two trunks.
Each stem circumference at the turning point is about 4 m 30 cm in one and 2 m in the other, and they are further branched, and they have beautiful flowers every April.
Higanzakura is also known as Edhigan or Azmahigan and is a representative species of higan-sakura, which has the longest life among the cherry trees.