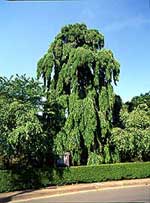 | | |
| --- | --- |
| Specified type | Country designation |
| Type | Natural monuments and plants |
| Designated date | December 9, 1924 |
| Specified details | |
| quantity | |
| location | Morioka Kashiwacho, Morioka City Gate, Morioka City Oga |
| owner | Ryugenji Temple Individual |
| Holding group | |
| Management organization | Morioka City and others |
| home page | |
Overview
A fern eagle is a rare tree form in which all branches are ditching and the lower branches reach the ground, and is rare as a variant of the wig.
About three hundred years ago, the three designated wood logs were discovered in the mountains of Ukonakochi in Osako-cho, Hanamaki-shi, and were transplanted within the precincts of Yusen Temple (the site of which remains next to the Hayaikemine Shrine) The
After that, a resident of the Morioka city, Ogao Ryugenji, transplanted the fly into the Ryugenji grounds.
Since the early Tenpo (1830 to 35) about 200 years later became a huge tree with a tree height of about 30 m, in Tempo 6 (1835), Ryugen-ji was cut to serve as a repair material for the temple.
The extant fern eagle is the growth of its fly, and the two strains other than Ryugenji are those from which the fly has been transplanted.