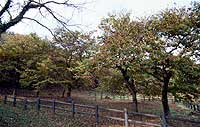 | | |
| --- | --- |
| Pseudonym reading | Squid |
| Specified type | Country designation |
| Type | Natural monuments and plants |
| Designated date | April 8, 1927 |
| Specified details | |
| quantity | |
| location | Hanayama City Towacho Kamiyamada |
| owner | Hanamaki |
| Holding group | |
| Management organization | Hanamaki |
| home page | |
Overview
It is located in Ishihatoka, Kamikoyamada, Towa Town, Hanamaki City.
This chestnut has an unusual flowering habit of attaching female flowers to all the flower spikes.
Originally, all chestnut flower ears have male flowers except that female flowers are attached to the base, but this chestnut is all turned female flowers by sex conversion.
After pollination, each female flower becomes extremely small iga and does not reach the formation of grains.
The raw wood is dead, and the existing one is second-generation grown by grafting.
As a result of the efforts of people involved in Hanamaki City Towa Town and others, the trees recovered and began to flower every year.