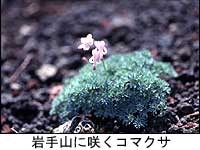 | | |
| --- | --- |
| Pseudonym reading | Iwate-san's office |
| Specified type | Country designation |
| Type | Natural monuments and plants |
| Designated date | February 7, 1928 |
| Specified details | |
| quantity | |
| location | Takizawa City Takizawa Iwate Iwate National National Forest |
| owner | Country |
| Holding group | |
| Management organization | |
| home page | |
Overview
Iwateyama (2040.5m) is the first high mountain in the prefecture, and it is a Quaternary new volcano that erupted above the Owa Range.
The mountain consists of the West Iwate volcano, which has a major caldera at the top of the mountain, and the eastern Iwate volcano, which erupts to the east of its crater and has a summit at Yakushidake.
The east and west volcanoes exploded several more times, each having a dual volcano topography, with a beautiful footing except on the west side, also called southern Fuji.
The alpine flora is formed from the crater wall of Nishi-Iwate volcano to the foot of Higashi-Iwate volcano (the first crater field called Fudohira).
From this point on, the upper crater hill area is covered with volcanic sand and has a so-called alpine wilderness appearance, and only limited plants can be seen.
From the immovable flat crater field, primary alpine plants that grow on alpine wilderness such as dimorpha, liwabukuro, iwatehatazao, タ カ ミ ス キ ス レ, イ ス ス キ, バ ク ジ ジ シ バ リ リ are dotted, and so-called primary dry plant communities are formed.
On the other hand, the immobility area is mainly composed of Pinus densiflora, P. vulgaris, P. vulgaris, B. vulgare, B. vulgare, B. vulgarus, B. vulgaris, B. vulgaris, B. vulgaris, B. vulgarensis, B. vignata, B. safflower, B. safflower, b.・ It is a second positive plant community such as Miyamagin Shoru.