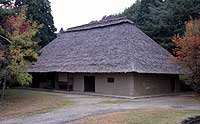 Overview
Column line 21.5m, 10.5m between beams.
寄 茅 葺.
Although there is no data on the age of the building, it is not clear, but it is a typical remains of the Sendai Kanai family that divides the form of the private house in the Tohoku region with the southern musicians. It is much more old than the Kuwano house (built for the Kyoho year), which was in the mouth, and the remnants of the pagoda from the bottom of the underground underground during the demolition work. It is presumed to be built at that time because there is a registered name.
From the trace of repair modification left in the building, it has been partially renovated in the middle of Edo, early Meiji and early Showa years, but there was no change in the main parts such as the shaft part and the cabin group, leaving the form at that time ing.
Originally, Esashi Ward of Oshu City received a donation from Oshu City Esashi Ward Hirose, and it was rebuilt in Mukoyama Park in August 1976.