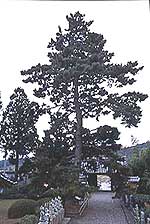 | | |
| --- | --- |
| Pseudonym reading | New Year's Eve |
| Specified type | Country designation |
| Type | Natural monuments and plants |
| Designated date | December 24, 1935 |
| Specified details | |
| quantity | |
| location | Ryouzen Takada City Koyumachi Jadomonmae |
| owner | |
| Holding group | |
| Management organization | |
| home page | Iwate Prefecture Tourism Association |
Overview
Kozhu pine is a black pine tree with a tree height of about 20 meters in the Hako-ji temple grounds.
The position of male and female flowers in this pine is opposite to that of general pine.
In general pines, male flowers are attached to the roots of shoots that extend in spring, and female flowers are attached to the tips.
However, in this pine, many female flowers gather in a position where male flowers come in, and when it is matured, it looks like a pineapple like conch (cones) sticking together.
This unusual flowering habit does not occur on every branch every year, but occurs accidentally and sporadicly in several years or several decades.
The tree is around 2m and the age is estimated to be about 130 years.