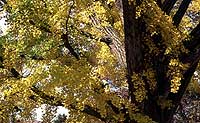 Overview
The Ginkgo biloba, which is a male strain, has an unusual habit of attaching female flowers to part of its branches and bearing fruit in the form of a bunch of grapes.
The female flowering branch is only one branch. This is a kind of "branch change", in which sexual conversion has occurred by mutation.
About 250 years old.
It is of high academic value as a male strain with female flowers.