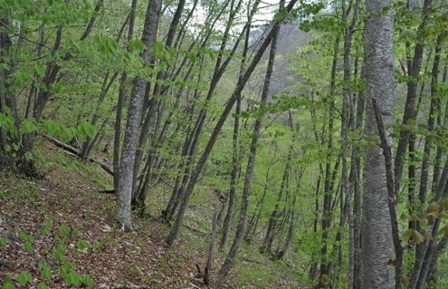 | | |
| --- | --- |
| Pseudonym reading | Hiranuka Inubu No Zenrin |
| Specified type | Country designation |
| Type | Natural monuments and plants |
| Designated date | September 21, 2011 |
| Specified details | |
| quantity | |
| location | |
| owner | Country (National Forest) |
| Holding group | |
| Management organization | |
| home page | |
Overview
Inu Beech is a deciduous tall tree of the beech family Beech, which is different from beech. The distribution is one of the representative tree species of the forest which is established in the middle area between the Shii oak forest and the beech forest mainly on the Pacific side of Honshu (from Iwate south), Shikoku and Kyushu (from Miyazaki north). Although it mixes with beech, it is distributed in areas slightly lower than beech, and often mixes with broadleaf trees, broadleaf deciduous broadleaf trees of oaks and temperate conifers such as fir and tsuga. The northern limit of Inubecha was once considered to be the line connecting Hanamaki-shi, Iwate Prefecture and Miyako-shi. However, the local investigator confirmed Inubuna and published it in the history of the town in the case of the history of Ichinohe Town. After that, a research by a researcher was conducted, and a new distribution area of Inubecha was confirmed in Ichinohe-cho and Kuzumaki-cho, and it was reported in 1992. The target area is the largest in the northern limit area and forms a favorable community.
In addition, about designation of natural monument of Inu Beech natural forest, in addition to thing which was included in designated place of Mt. Fuji primordial forest until now, it is Siojinzawa (Shirojinzawa) upstream part Inu Beech natural forest (Shiotanimachi, Tochigi) ) Is only designated as an Inu Beech forest developed on a gentle slope. Thus, it is considered to be extremely valuable in terms of the northern limit community as well as the designated value as an Inu Beech forest.

From the above, the area is a typical northern part of Inu Beech with good typical forest, high academic value, and designated as a natural monument for protection.