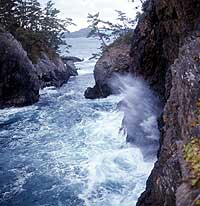 | | |
| --- | --- |
| Pseudonym reading | Potatoes |
| Specified type | Country designation |
| Type | Natural monuments and geological minerals |
| Designated date | December 16, 1936 |
| Specified details | |
| quantity | |
| location | Rikuzentakata Koyumachi Tanijikan |
| owner | Outside the individual |
| Holding group | Rikuzentakata City |
| Management organization | |
| home page | Iwate Prefecture Tourism Association (Jabegasaki) |
Overview
Jagasaki is located between Ono Bay in Hirota-cho, Rikuzentakata City and Hamawan Bay at the gate of Suesaki-cho, Ofunato City, and is located at the tip of a narrow ridge extending south-south.
Large and small islands such as Tsurushima and Kamejima and Haiyanite are scattered at the end of the cape.
This area is made of lower Cretaceous hard sandstone and shale, and these rock layers are subject to sea erosion and become sea cliffs, and narrow water channels between islands and islands, islands and forts. It forms a typical sea food topography with many variations, such as large sea eating caves and tidal pits.
In particular, the sea cave is large in scale, and there is a cave of great depth, which is called "The Great Cave of the Manse", followed by the "Water Hole" and the "Kanazawa Cave".
In addition, there is a narrow water supply called Kamejima Channel between Tsurushima and Kamejima, and there is also a tidehole called "Raining Shiofuki" or "Slide Out".
These are all valuable as an example of the relationship between geological conditions and sea food.
image