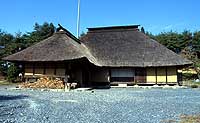 Pseudonym reading
Take care of yourself
Specified type
Country designated / important cultural property
Type
Building
Designated date
December 18, 1969
Specified details
quantity
1 building
location
Hanamaki City Towamachi Taniuchi
owner
Hanamaki
Holding group
Management organization
home page
(Reference) Notice of temporary closing
Overview
Column row 16.3m, 9.6m between beams.
South face overhang column 5.6m, interbeam 4.8m.
寄 茅 葺.
There is no clear data about the Ohara family, and it is not clear from the history and the construction age of the house.
It is a common farmer in this region, and the construction age is estimated to be around the middle of the 18th century from the viewpoint of plan and structure method.
The building is a bender, with very small protrusions, and it can be said that it is an old form as a bender.
It was converted from a direct family to an archer at an old time, and it is a valuable remains that can follow the generation process of the archer.
Towa Town, Hanamaki City was donated by the owner in 1975, and was relocated to the present location.