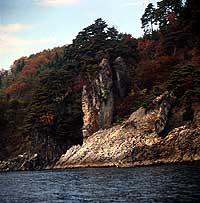 | | |
| --- | --- |
| Pseudonym reading | Sakiyama's candle |
| Specified type | Country designation |
| Type | Natural monuments and geological minerals |
| Designated date | September 7, 1939 |
| Specified details | |
| quantity | |
| location | Miyako-Shizaki Chigasaki |
| owner | Shiroishi Housing Co., Ltd. |
| Holding group | |
| Management organization | Miyako |
| home page | Miyako-shi (a candle rock) |
Overview
Sakiyama's candle rock is located about 300m northeast of Osawa area north of Chigasaki, Miyako city.
It protrudes like a huge firewall from the sea cliff to the beach, and when it is seen from the sea, it gets thicker gradually from the bottom to the top and looks like a candle, so it is called a candle rock There is.
The surrounding host rock is an acid igneous rock that erupted in the Cretaceous period, in which horn bite rock intruded as a dike.
The portion protruding from the sea cliff is approximately 17 m in length, about 40 m in height, and 3 m in thickness, and about 7 m in the upper part, and stands upright.
Parallel joints are developed horizontally in the front.
The top is slightly chipped from both sides and gradually narrows to the tip, with some trees growing.
An example in which the surrounding rock is eroded like a candle rock and the whole dyke is exposed and can be observed is an unusually valuable academic material.