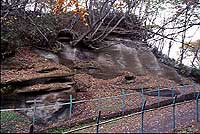 Overview
Cross layers are generally referred to today as "cladding lamina", and are small-scale layers in which strata cross diagonally, and sand or fine sand in flowing water or air. It is said that what happens when deposits etc.
The cross layer of this sea bream is deposited in seawater and contains many pieces of scallops, etc., and the appearance of the cross is clear and streaked, and the scale is also large.
This stratum is called the Matsuyama Formation at the end, is made of thin sandstone, and is said to be seven million years ago.
Namichi-an is also known as "Sueno Matsuyama", a place that used to be an old Oshu highway leading from one house to Fukuoka (Nichito City).