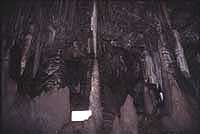 | | |
| --- | --- |
| Pseudonym reading | How |
| Specified type | Country designation |
| Type | Natural monuments and geological minerals |
| Designated date | February 7, 1975 |
| Specified details | |
| quantity | |
| location | Iwaizumi Town Oji Anji |
| owner | Outside the individual |
| Holding group | |
| Management organization | |
| home page | |
Overview
Anji-dong is located along the prefectural road leading from Iwaizumi to Kuji, in Iwaizumicho Anjimotomoto.
In 1961 and subsequent surveys, it was found that the total extension is the largest cave in the country with more than 8,000 m, but the details are unknown.
Caves develop in Anji Limestone and are dominated by north-south and north-south-west-to-south-direction caves in relation to the geological structure.
The cave is generally narrow in terms of length, and often has a width of 5 to 10 m and a height of 5 m or less.
The development of stalactites, stalagmites, stalagmites, flowstones, etc. is extremely good, and rimstones (stones) are also found in several places.
It is well-preserved in general, the scenery in the cave is delicate and splendid, and along with the scale, it is geologically valuable and valuable as a representative cave in Japan.