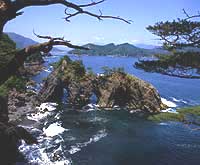 | | |
| --- | --- |
| Pseudonym reading | Serious cancer |
| Specified type | Country designation |
| Type | Scenic spot and natural monument |
| Designated date | June 15, 1937 |
| Specified details | |
| quantity | |
| location | Ofunato City Suezakicho Ohama |
| owner | Ofunato |
| Holding group | |
| Management organization | Ofunato |
| home page | |
Overview
The area around the southern end of the Suesaki Peninsula is called Shizukuishi Beach.
The Suesaki Peninsula is almost composed of alternating Mesozoic Cretaceous sandstone and shale, and it is the Soishi coast that has been produced by sea erosion.
The terrace cliffs facing the sea were softer and more fractured (jointed) than the sandstone in the shale, which caused erosion of the rough part by waves, forming a varied sea topography.
The reefs, cliffs, caves, caves, tide holes, water channels, etc. found in the coast area were created in this way.
The reefs and cliffs, and the terraces behind are covered with natural forests of red pine and black pine, and under the trees and on the cliffs are seen populations such as Scutellaria japonicus, Scutellariae spp. Adds color to
If you go to the west of the tip of the rock stone cape, it is rock stone beach.
Here, the fine gravels of black shale produced by the sea food are deposited on the beach as a flat circle, but the color and shape are just like the meteorites.
For this reason, it is said that the grain was put in order to the old Zen period lord Lord Date and presented as a stone.
The name of the Shizukuishi Coast stems from this.
This area is the base of the southern area of Rikuchukaigan National Park, with various facilities and a large number of visitors.
image