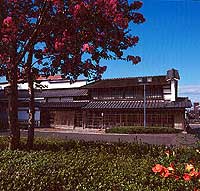 Pseudonym reading
Untitled
Specified type
Country designated / important cultural property
Type
Building
Designated date
December 28, 1971
Specified details
quantity
3 buildings
location
Morioka Ehime-machi: Morioka Central Public Hall
owner
Morioka
Holding group
Management organization
home page
Overview
Main building 1 building.
One storehouse.
1 building.
Main building girder line 9.6m, beam space 15.9m, part 2 stories, gabled structure, east and west facings, south side projection part attachment, kokera bream.
Dodori girder line 10.4m, beam space 9.6m, 2 stories, gabled gabside, east face tack, crosspiece rubble, north face and west face tack, copper plate fence.
Scale: 5.4m, Girder gap: 6.8m, 2 stories, double structure, east and west facings, crosspieces and kokera, north facing main store, south facing storage connection.
It is estimated that this building was built around 1903 in the first year of Bunkyu (1835) in Minami Odori (old town name new grain town) of Morioka as "Itoyaka Nakamura house", and the house has been a textile dealer since Tenpo 6 (1835) It was a long-established store with a name of "Itoji".
Morioka City was donated in 1974, and was relocated to the current location (the Ehimecho Morioka City Central Public Hall), which was the former residence of the former Morioka lord.
The main house has a space between the four room layouts of rice fields and has a ground floor as a store facility on the front, with a gabled roof flat, a fire wall "Udatsu" also remains, and it was completed in the late period It is a valuable remains as a typical Machiya architecture.