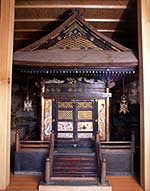 | | |
| --- | --- |
| Pseudonym reading | Mizuyama-donja |
| Specified type | Prefecture designation |
| Type | Building |
| Designated date | October 27, 1972 |
| Specified details | |
| quantity | 1 building |
| location | Oshu City Mizusawa Ward Hidakakoji |
| owner | Hidaka Shrine |
| Holding group | |
| Management organization | |
| home page | |
Overview
Main hall opening 1.21m, depth 1.16m, height 2.5m.
Booth opening 1.92 m, depth 1.51 m, height 0.36 m.
The early early modern period Morioka lord Nanbu mausoleum is in present-day Aomori prefecture, and does not exist in this prefecture.
As a spirit house of the daimyo class upper warriors, there is one remaining building of the former Sendai Mizumizuzawa lord's absence Date.
Oyama Shrine Sohre-sha was originally a mausoleum of the Date Misa Date Sori, and was long known as the Hyoei-do.
It is a magnificent building with a nursery building, a kokera rattan, and a wife, and it is located in a closed house.
Two pieces of crosspieces are hung in the front, and both sides are board walls.
The house is two rafters.
It is effective to apply coloring to the entire surface, connect rings made of gold mud on a black lacquer base, and decorative patterns such as turtle shell patterns.
Decorative fittings are attached to the rafters of rafters.
It is an excellent piece of design, full of refined and refined decoration.
It is also rare that what is supposed to be a secret painting is used for the decoration of the roof under the eaves.
It is an independent building that does not have an attached building such as a shrine from the beginning, and is a small but elegant, Edo-era Kanei 15 (1638) building.