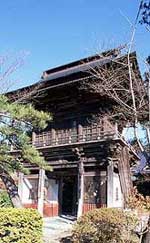 | | |
| --- | --- |
| Pseudonym reading | Hojiin-san |
| Specified type | Prefecture designation |
| Type | Building |
| Designated date | February 15, 1974 |
| Specified details | |
| quantity | 1 building |
| location | Ichinoseki City Hanasencho Kanazawa character Oyanagi |
| owner | Treasure house |
| Holding group | |
| Management organization | |
| home page | |
Overview
Lower row (frontage) 6.187 m.
Between beams (depth) 4.459 m.
Upper row row (frontage) 5.228 m.
Between beams (depth) 3.475m.
11.207 m in height (up to the top of the plum).
A wooden unframed wooden house with a single Sanma 8 door tower.
The roof is made of a mother-in-law, slate casket.
The lower layer is the main pillar between the front and the other is a prism.
Use a bearing ring and a head-end on the shaft, and place a groin between the columns.
The upper layer has an edge with a high (gradient) column around the four sides of the front, between the front 3 and between the side 2, the round pillar, and the floor.
It has a ring, a head, and an internal squeeze.
The whole is mainly Japanese style with a partial Tang style.
On the back of the Inariyama, there is an inscription of "Horonaga eight-year-old April Tatsudou-do erection", and at the Inariyama, there is an article of articles by Kinoyuki and Kuwayama.
The founding age is clear with Takanaga 8 years (1711), and it becomes a standard on the Buddhist temple architecture style under the prefecture, and the material value is high.
In addition, among the rare architectural structures of the gate-gate style, this belongs to its oldest example.