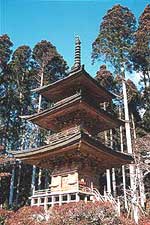 | | |
| --- | --- |
| Pseudonym reading | Fumonji's Sunday |
| Specified type | Prefecture designation |
| Type | Building |
| Designated date | March 4, 1975 |
| Specified details | |
| quantity | 1 unit |
| location | Rikuzentakata city Yonezaki town character ground Takezawa |
| owner | Fumonji |
| Holding group | |
| Management organization | |
| home page | Fumonji |
Overview
The first layer is 1.648m square, tower height is about 12.5m, (from the ground to the top of the nine wheels).
It is a triple pagoda of a wooden bronze plate (Motoko kara 葺), and it is built on a double stone base.
Each layer plane is edged in three directions.
The first floor is two houses, many rafters, two hands.
Two layers do not set rafters in the eaves and give a sculpture on the whole surface, and two hands.
The three-tiered two-tiered fan rafter is different in the design of the eaves for each tier.
It is erected in 6809 years of culture (1809), saying that "the sixth year of culture, the second year, Noriyoshi Dankai Kaiganyama, Pukamonji temple ..." in the tag.
Although it is not unified as a whole in a delicate and elegant design, and it is not particularly old architecture, it has a clear construction time, and there is no other example of a tower construction in this prefecture, and it is the only remains.
The historical value of temples and buildings in this prefecture is high as documentary value.