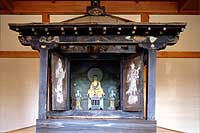 | | |
| --- | --- |
| Pseudonym reading | How is it |
| Specified type | Prefecture designation |
| Type | Building |
| Designated date | February 27, 1979 |
| Specified details | |
| quantity | 1 building |
| location | Hanamaki City Towamachi Tase |
| owner | Bunchi Uchinada |
| Holding group | |
| Management organization | |
| home page | |
Overview
Book store (row) 1.248 m.
Between beams (depth) 1.781 m.
廂 Column line (frontage) 1.248 m.
Between beams (depth) 0.536 m.
The ridge height is approximately 2.00m.
A wooden pavilion in the Gaodo Shiodo hall.
The roof is a treasure board.
You will receive a roving gem in the ridge.
Put a blazing rim on the front.
The bookstore uses a round pillar, the square uses a square pillar, and the outside is partially painted with black lacquer.
Draw paintings of the picture of Sagisu between the narrow wall of the front eave and the clouds and dragons on the small wall on the left and the small wall in the small wall below the front eave.
Inside, the Yakushisan Sanpaku on the front wall, Twelve Shinmons on the left and right walls, Teishinten on the back of the door, Zenten, Shochu on the left and right panels of the door, and one hundred flowers on the ceiling of the ceiling.
The pillars and the floor are zelkova, and the plate door is cedar.
Although they are simple in general, they are rich in mascots, and the colors applied inside and outside are excellent.
It is a local work of the early Edo period that is clear with the 3rd calendar year (1657) of the construction age, and reflects the traditional method of the Muromachi period.
image