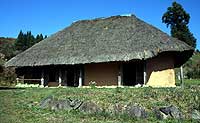 Pseudonym reading
Family
Specified type
Country designated / important cultural property
Type
Building
Designated date
February 3, 1976
Specified details
quantity
1 building
location
Hanamaki City Towamachi Tase
owner
Ito Kishiro
Holding group
Management organization
home page
Overview
Column row 13.8m, 8.7m between beams.
South face overhang column 5.6m, interbeam 4.8m.
寄 茅 葺.
There is no clear data on the construction age, but it is estimated to be in the early 18th century.
However, the overhangs are new and are believed to have been built in the mid 19th century.
The building faces south and has a small "umaya" sticking out to the main house.
The mountainous area of Minami-Kamazawa in the Tase Dam, where the building is located, is the southernmost part of the Morioka Territories bordering on the border with the former Sendai Terumi-eishi Sashi-gun, and it is an area where homes and divers are mixed.
The Ito house is one of the small-scale ones among the choirs, but as a farmer in the southern part of Iwate prefecture, it is a valuable remains that has both a plan and a structure, as well as an old-style structure.
It was a curator at the time of designation, but it was restored to the direct house at the time of establishment in 1959, and it is preserved locally.