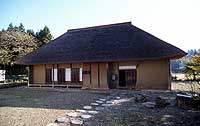 | | |
| --- | --- |
| Pseudonym reading | Small space |
| Specified type | Prefecture designation |
| Type | Building |
| Designated date | May 1, 1984 |
| Specified details | |
| quantity | 1 building |
| location | Ichinoseki City |
| owner | Ichinoseki |
| Holding group | |
| Management organization | |
| home page | |
Overview
Girder line 16.062m, beam space 9.116m, direct store, roof roof, ridge.
Staggered four-room layout type, wall is large wall construction.
The former Suzuki family house was the one that was originally at the mouth of the Ichikawanshi Maikawa letter and was donated by Ichinoseki City, and was relocated to the present location in 1959, and restored to a form similar to the beginning of its construction.
It is a medium-sized private house with a closed wall with a closed structure, and a simple structure with isolated columns such as pillars.
The sill groove in the opening and the ditch groove are three grooves each, and the chestnut pillars are all hand cut, and the cross section of the main pillars is rectangular.
It is a form similar to the original form among the four-story home-style private house type widely found in old folk houses in the northern part of the Sendai Territories, and it is valuable in knowing the history of the architecture of the prefecture Shimin.
It is estimated that the construction age does not fall in the middle of the 18th century.