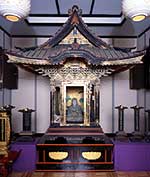 | | |
| --- | --- |
| Pseudonym reading | New Year's Eve |
| Specified type | Prefecture designation |
| Type | Building |
| Designated date | May 1, 1984 |
| Specified details | |
| quantity | 1 building |
| location | Ichinoseki City Daimachi |
| owner | Shounji Temple |
| Holding group | |
| Management organization | |
| home page | |
Overview
Total height 2.03 m.
Ladder height 1.80 m, row of rows 0.765 m, distance between beams 0.960 m.
Basic height 0.23 m.
The four sides, wooden, single-layer, roof-roofed majesty building tiled board made on the wooden base with the form of Shinshu.
We put eaves of wind on the front with my wife.
The sitting posture of the hospital is enshrined inside.
Yasushiin died in 1669, the mother of Date Hyakkan Sokatsu, in 1669.
It was buried in Toyoya-ji Temple, where Sogoshi opened in advance, built a ghost house, made a lion, placed a sitting statue, and served it.
Bunsei 10 (1827) Toyotaniji Temple suffered a fire in March and became an abandoned temple during the Meiji Restoration.
After that, the sitting statue and the lion were transferred to Shounji and have reached the present.
A fine, elaborate detailing technique with a focus on Zonjong style, a dynamic peony for Tang Peony, a static lotus flower, a wall painting method of clouds, etc., while giving a lineage of the Momoyama period decor, but other faces The refined elegance of the early Edo period is admired in the splendor.
It is an excellent work in the early Edo period, though it is small, and it is a valuable monument with few buildings related to mausoleum.