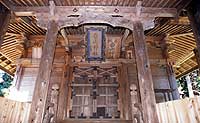 | | |
| --- | --- |
| Pseudonym reading | Hakusanjinjahonden |
| Specified type | Prefecture designation |
| Type | Building |
| Designated date | May 1, 1990 |
| Specified details | |
| quantity | 1 building |
| location | Kitakami city Kuroiwa |
| owner | (Song) Hakusan Shrine |
| Holding group | |
| Management organization | |
| home page | |
Overview
Row line 4.917m, 3.105m between beams, 1.823m out of direction.
Hakusan Shrine's main hall is wooden, between 3 rows of beams, 2 between beams.
A roof is attached to the front with a roof-embedded roof building, a flat, and a toch.
It is in an imperial house, inside a cloister.
The Mizuhiki rainbow beam mounted on the front of the shrine has a unique shape with the center raised one step higher and curved like an arch and has two ridges at the lower end, facing the Hidaka Shrine Main Hall in Mizusawa Ward, Oshu City There is something that leads to the rainbow beam method of the club.
In addition, the prawn rainbow beams that connect with the visiting columns are also irregularly shaped, and the design is deep in regional colors.
On the other hand, Mizuhiki rainbow beams, Wakaba-buns on Shrimp rainbow beams, whirlpools and wooden figures, shapes of groin, internal sculptures, paintings and their coloring methods show stylistic characteristics not inferior to the early Edo period ing.
Although the construction age etc. are unknown, it is a masterpiece with regional colors in the early Edo period.