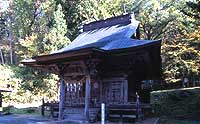 | | |
| --- | --- |
| Pseudonym reading | I'm sorry |
| Specified type | Prefecture designation |
| Type | Building |
| Designated date | May 1, 1990 |
| Specified details | |
| quantity | 1 building |
| location | Hanamaki City Towamachi Taniuchi |
| owner | (Song) Tannaisan Shrine |
| Holding group | |
| Management organization | |
| home page | |
Overview
Attached ladder, column row 6.840m, beam between beams 6.910m.
Wooden, Irimoya-style, flat-framed.
There is a roof copper plate girder (Motobori) and a gossip of a sea bream.
The dumplings are forged, and the eaves are exposed to the front facing part with a board.
Sangan-do, Sankan-san, Gikan-san, Sankan-do.
On the outer wall is a Japanese-Chinese historical story, a sculpture based on a story, and on the side shoji, it is a decoratively superior building that has been carved everywhere with Tangko.
The interior follows the form of a sectarian Buddhist temple with the front one between the front and the back two between.
As for the construction age, culture 7 years (1810), the name of the building beam are clear from the building tag, and it is valuable as a remains example of the Buddhist temple-like main building architecture of the late Edo period.
Although the construction age of the dumplings is unknown, it can be guessed that it is from the early Edo period, because the method of the early Edo period to the Momoyama period can be styled.