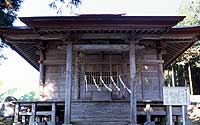 | | |
| --- | --- |
| Specified type | Prefecture designation |
| Type | Craft |
| Designated date | November 2, 1999 |
| Specified details | |
| quantity | 1 waist |
| location | Hanamaki City Takamatsu Hanamaki City Museum |
| owner | Hanamaki |
| Holding group | |
| Management organization | |
| home page | |
Overview
Attached bill, bookstore girder line 2.428 m, beam length 1.982 m.
Heading row 2.428 m, beam distance 1.89 m.
Ikansha, flow structure, roof tile.
Shrimp rainbow beams, hand-clamped, well shaped as a bundle of large bottles, painted on the entire surface, and embossed and round-carved wood noses seen on the small wall above the inner rule, further rainbow beams, prawn rainbow The decoration methods such as beams, hand-cleaved young leaves, whirlpools, and kerfs are elaborate and elegant.
In terms of design, the style features of the early modern period can be seen in the whole, and it is temporally in line with the construction of Yangaru 5 years (1677) said to be a rouge.
It is in the overturned house and the preservation condition is good, especially the method such as the original cocoon roof and hardwood trees can be seen and is valuable.
It has a high historical value as an excellent flowing construction shrine remnant in the early modern period of this prefecture.