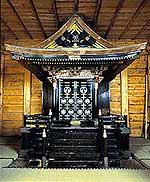 | | |
| --- | --- |
| Pseudonym reading | Sorrowful sweet potato |
| Specified type | Prefecture designation |
| Type | Building |
| Designated date | March 29, 1991 |
| Specified details | |
| quantity | 1 building |
| location | Oshu-shi, Izawa-ku, Wakayanagi letter lower case bag |
| owner | (宗) Oro 閇 Shizawagawa Shrine |
| Holding group | |
| Management organization | |
| home page | |
Overview
Main storefront doorway 91 cm, depth 91.8 cm.
Heading 91cm, Depth 49.5cm.
It is an old son of Reiko Date, who became the master of Maezawa, the second son of the Sendai lord of the 21st century, and was built on the altar. It is a small building with a square, an Imomo-ya structure, a kokera wood, and a wife.
What was originally in Osawa-shi Maezawa-ku Ryomoku-ji Temple was transferred to this shrine and was diverted as a main shrine lion.
The architectural techniques found in Tonosu, Taiwaki and Hokunouki, their paintings, and wisteria ornaments are solid and show the stylistic features of the early to mid Edo period.
The techniques found in coloring and metalworking are sophisticated and excellent and have high craft value.
Currently stored in the main hall, the state of preservation is good.
Although small items, it is a rare thing of the mausoleum architectural remains in this prefecture, and it is valuable as a thing belonging to the first half of Edo period which does not fall much like Kanbun 3 (1633).