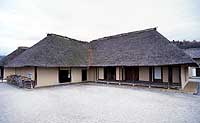 Pseudonym reading
き た く
Specified type
Country designated / important cultural property
Type
Building
Designated date
February 3, 1976
Specified details
quantity
1 building
location
Tono Town Tono City
owner
Tono
Holding group
Management organization
home page
Overview
Column line 21.2m, cross beam 8.6m.
South face overhang column 8.7m, cross beam 7.7m.
寄 茅 葺.
There is no clear data on the construction age, but the form of the building is in a closed position, the finish of the materials and the construction method are old, and it is estimated that it will not fall in the middle of the 18th century.
It has a standard size, with a special curiosity style of Morioka Sakai, with the main house facing south and the stable part facing east.
At the corners of the building's "places to hold" and "nagashi", construction methods such as placing a joisted beam on the lower pillar and omitting a corner corner pillar are applied, and it is noted as an old example of the use of jousted beams.
This building was originally built as a direct house, but it is a valuable remains that can be traced to the generation process of the divorce, with the "Umaaya" part connected poorly downstream of the establishment.
Tono City was donated in 1977, and Koyu Town has been relocated from the town of Tonosho in Tochi-cho.