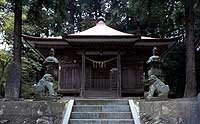 | | |
| --- | --- |
| Pseudonym reading | New Year's Eve |
| Specified type | Prefecture designation |
| Type | Building |
| Designated date | September 7, 1993 |
| Specified details | |
| quantity | 1 building |
| location | Ota city Mizusawa ward Haneda character Kurotasuke |
| owner | Senyoji |
| Holding group | |
| Management organization | |
| home page | |
Overview
Column row 6.75m, beam interval 6.75m.
Wooden, Itashiki, Sansandou.
Roof treasure-shaped building, colored iron plate fence (Motobori).
Place a rooster, a pot and a gem in the ridge.
Go between front and center 1
The facing roof will be taken down from the main building.
There is no rooster.
It is reported that it will be erected at 1677.
Although the author and the erection age are not clear, the picture of the wood-nose type found in the architectural details, the method of forming the end of the base ring, etc., the shape of the elbow tree and the inner large bundle of bundles, ) Because of the existence of the Ema in the same eight years, I think that it will be a great overrun to see the construction of a five-year long treasure to say to the temple.
The structure is also simple and the technique mainly based on the Zenmune style is solid, and there are also details that should be seen in the detailed design.
The state of preservation is also good, and it is valuable as a full-scale Sanmando relic of the early Edo period in this prefecture.