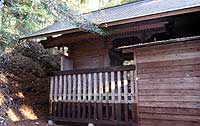 | | |
| --- | --- |
| Pseudonym reading | Sojikuma no Jinja honden |
| Specified type | Prefecture designation |
| Type | Building |
| Designated date | September 7, 1993 |
| Specified details | |
| quantity | 1 building |
| location | Ichinoseki City Daito-cho Kokeiji Nishinosawa |
| owner | (Song) Yukei Kumano Shrine |
| Holding group | |
| Management organization | |
| home page | |
Overview
The main row of columns 1.793 m, the distance between beams 1.981 m.
Head row 1.695m, 1.981m between beams.
Honzo.
Between the front (between beams), between the depth (columns) 1 and with a roof gable, a wife, and a rattan.
There is a gap between beams 1 on the front.
The main lord and the head of the house are placed under one long gable roof.
Although there is a lack of direct materials such as the roof tag, according to our records, it is with the resurgence of the annual treasure 7 years (1679).
Given the technique of whirlpool and wakaba-bun given to rainbow beams, it seems that the 7-year-old construction of Yanbori is appropriate.
The main hall is well preserved because it is in the overturned house.
The long wooden nose, the shape of a large bottle bundle is also good, and the shape of the groin is rare.
In particular, the gable, the wife, and the roof shape of the fort are notable as unusual for Kumano Shrine form.
In Kumano Shrine Honden's architectural history, it is rare not only in this prefecture but throughout the country, and it is a valuable remains.