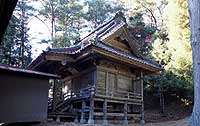 | | |
| --- | --- |
| Pseudonym reading | Sasawa Hachimanjinjahonden |
| Specified type | Prefecture designation |
| Type | Building |
| Designated date | September 7, 1993 |
| Specified details | 1 building |
| quantity | |
| location | Ichinoseki City Daitocho Surisawa character Hachiman before |
| owner | (Song) Surisawa Hachiman Shrine |
| Holding group | |
| Management organization | |
| home page | |
Overview
Main row of columns 5.120m, inter-beam 3.408m.
Heading row 1.715m, 2.133m between beams.
wooden.
Between the girder row 3 and between the beams 2 and into the house of the imperial house, enter the rafter rubble (Motosu).
A visit will be made between Central 1.
A resurgence of three years (1686), and a part of the innings were made in 1728.
The state of preservation is good for the whole, only by changing the roof from rubble to rubble in 1933.
There are regional features in the Irimoya-style building, the form of the shrine with the flat, the shape of the prawn rainbow beams, the shape of the groin, and the carving of the wood nose, and detailed designs such as whirl texts on rainbow beams, Wakaba sentence, decoration inside the shrine. There is an excellent one.
The remains of a consistent, stylistic method from the early Edo period to the middle period, which is a valuable example of Shinto Honden's architectural history in this prefecture.