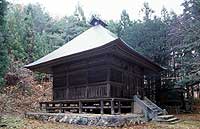 | | |
| --- | --- |
| Pseudonym reading | Yamayannon |
| Specified type | Prefecture designation |
| Type | Building |
| Designated date | September 16, 1994 |
| Specified details | |
| quantity | 1 building |
| location | Tono City Koyucho |
| owner | Kikuchi Chiyono |
| Holding group | |
| Management organization | |
| home page | |
Overview
Front (front door) 7.430 m.
Side (depth) 7.430 m.
wooden.
Three way, floor covering.
Roof treasure-shaped building, colored iron plate fence (Motobori).
Go around the edge in all directions.
The house is a single rafter, Oto elbow.
There is no head row.
Rustic, majestic architecture.
It is the reconstruction of Genroku 12 (1699), and the building age and craftsmanship name etc. are clear from the ridge tag of the reconstruction period.
Besides the modification of the roofing material, the storage condition is also good.
It is said that it is an ancient "Imashima Shifaido" represented by Amidado, which is one of the three houses in the middle of Edo period, but the plan and the structure are the ones between the main square and the other. From the form that the shape should be kept still, and the other side functionally functional with the main house and the outer side with the fort, with the inner position at the position of the far end and with the outer portion widely in front, a new medieval or The transition to modern space is also in progress.
The Kannon-do is a very interesting and valuable example as it is a relic process that has passed through several reconstructions from antiquity to the Middle Ages, as well as the process of transformation among the three and the characteristics of the medieval hall.