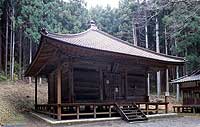 | | |
| --- | --- |
| Pseudonym reading | There is no way |
| Specified type | Prefecture designation |
| Type | Building |
| Designated date | September 16, 1994 |
| Specified details | |
| quantity | 1 building |
| location | Kaminosawa Miyamorimachi Tono City |
| owner | Hakusan Shrine |
| Holding group | |
| Management organization | |
| home page | |
Overview
Front (front entrance) 8.181 m.
Side (depth) 8.195 m.
wooden.
Three way, floor covering.
Roof treasure-shaped building, iron plate fence (Motobori).
Go around the edge of the corner without a corner on all sides.
舟 elbow on a cylinder.
One house, a half rafter.
There is no head row.
It is a simple, old-fashioned old-fashioned Sankando with a closed structure where almost the entire surface becomes a board wall, except for the central bridge, Kararado.
It is the reconstruction of Kanbun 10 (1670), and the building age and craftsmanship name etc. are clear from the ridge tag of the reconstruction period.
The condition of the preservation is very good as it was at the beginning of reconstruction, except that the central part of the caribbean roof has been changed from the shaft suspension to the elbow suspension from the rattan roof to the iron plate roof.
It is rare for a modern-day hall to have a cylinder that has already been finished as a cylinder from below the floor and stands up.
The main house section is only 2 columns, and the method of holding the altar in the middle of the center and building the inner group is a feature of Sansan-do in the early modern era, and Tsuji Kannondo is a good example of its typical shape.
It is a secluded Sangen-do hall representing early modern times, and is a high cultural value monument in the history of Buddhist architecture in this prefecture.