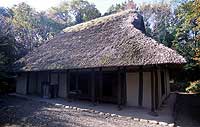 Pseudonym reading
Family room
Specified type
Country designated / important cultural property
Type
Building
Designated date
May 31, 1978
Specified details
quantity
1 building
location
Morioka City Ueda Character Matsuyashiki: Iwate Prefectural Museum (Motosashi City)
owner
Iwate Prefecture
Holding group
Management organization
home page
Iwate Prefectural Museum (exhibition room guidance)
Overview
Column line 15.0m, 9.6m between beams.
Whirlpool construction (some part mother-in-law construction), chopsticks.
Although there is no clear document about the construction age, it is estimated that it is about the second half of the 18th century from the comparison of formal methods of other houses, and it is a straight-through type widely distributed in Sendai Territories. It is relatively small.
There are two rooms of "Nakama" and "Okami" from the front along the soil, and the two rooms of "Dei" and "Nando" are well arranged.
There is almost no remodeling of the partition, and the closed form remains well as it is.
Also, due to the structure, there is a division between the upper and lower compartments, and it is a valuable monument to know its development.
Iwate Prefecture has received a donation from the former Oshu city Esashi Ward, and has been relocated as an outdoor exhibition facility for the 1979 Prefectural Museum.