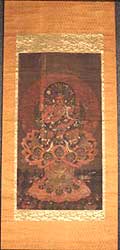 | | |
| --- | --- |
| Pseudonym reading | Free time |
| Specified type | Prefecture designation |
| Type | Painting |
| Designated date | February 15, 1974 |
| Specified details | |
| quantity | 1 width |
| location | Rikuzentakata city Yonezaki town character ground Takezawa |
| owner | Fumonji |
| Holding group | |
| Management organization | |
| home page | Fumonji |
Overview
Vertical 184 cm.
Width 98 cm.
It is an image of cloth and coloring.
This Buddha painting statue is a furious phase of the three-eyed-six-sixth, with a crown of crown on the top, a body as red as fire, with a bell, a spear, a bow, a spear, a lotus and a bead in the hands, It is the Aizen Ming King sitting on the red lotus above the treasure jar.
The arrangement of the belongings of the sixth base is based on the Zen theory.
It is a work of the Muromachi period.