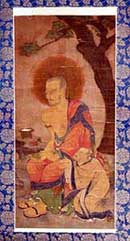 | | |
| --- | --- |
| Pseudonym reading | Checklist |
| Specified type | Prefecture designation |
| Type | Painting |
| Designated date | September 17, 1985 |
| Specified details | |
| quantity | 16 width |
| location | Oishi City Mizusawa-ku Kuroishi Town Character Shohoji |
| owner | Shohoji |
| Holding group | |
| Management organization | |
| home page | Oshu City (Mizusawa Roman) |
Overview
> 94.3 cm to 95.5 cm in length.
Width 45.3 cm-46.6 cm.
Each drawing is five dimensions (45.5 cm) wide, and a circle drawing, a hair drawing, etc. are ink-painted, and a layer is repeatedly drawn on flesh etc., and the super-coloring which mixed gold mud is given.
The design is very close to the important cultural property of the 16th district of Kyoto Kennin-ji Temple, and its style also touches it.
Jianin-ji Temple is a representative Luohan painting of the South-North Korea period, and a pair of Shoho-ji is considered to be a work of the same period.
It is valuable that it is transmitted in a nearly satisfactory state in all 16 widths.
image