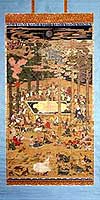 | | |
| --- | --- |
| Pseudonym reading | Butunetsu Hanzu |
| Specified type | Prefecture designation |
| Type | Painting |
| Designated date | August 27, 1991 |
| Specified details | |
| quantity | 1 width |
| location | Tono City Koyucho |
| owner | Jorakuji Temple |
| Holding group | |
| Management organization | |
| home page | |
Overview
180.1 cm in length.
Width 100.3 cm.
It is said to be redecorated in 1769, with a silk book coloring, hanging wide clothing, and a box book.
The figure is a portrait of a portrait of a shawl, a shawl, a shawl of a raft on the bashou, and a drawing of a grief, a gathering of nieces, rahans, heavens, sloans and many more. .
There are two types of overhead views, a first type that has a composition that is approximately horizontal or near square, and a second type that is a vertical type as shown in the figure.
The first type is generally in the Heian period, the second type is from the Kamakura period, and this figure is according to the second type.
Moreover, it is an example that leads to the lineage of Rohan in the original style of Roh Yuan.
It is understood from the inscription that it was drawn in 1420 as the Zenkai principal of Kyoto Nishiyama Saishuji.
Among stylized styli, it is a valuable work that you can see the season of creation.