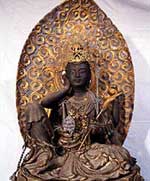 | | |
| --- | --- |
| Pseudonym reading | Check List |
| Specified type | Prefecture designation |
| Type | Sculpture |
| Designated date | April 5, 1954 |
| Specified details | |
| quantity | 1 body |
| location | Oishi City Mizusawa-ku Kuroishi Town Character Shohoji |
| owner | Shohoji |
| Holding group | |
| Management organization | Shohoji |
| home page | Iwate Prefectural Museum |
Overview
Image height 52.1 cm.
It is a wooden frame, a wooden frame and lacquered foil.
It is a main statue of Shoho-ji, and it is a small statue, but it is an elaborate structure, and the appearance of a folding screen is seen in clothing and clothing.
The use of the chisel is fine and technically excellent.
It is believed that the fine painting of lacquer foil, along with the legend that it is a work of temple den kasuga, is not a local work.
It is estimated to be a work of the Kamakura period, and it is a valuable work that is delicate and fine with fine patterns of gold plating and raised earthen patterns that are brilliant.