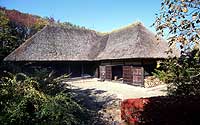 Pseudonym reading
さ た く
Specified type
Country designated / important cultural property
Type
Building
Designated date
May 31, 1978
Specified details
quantity
location
Morioka city Ueda character Matsuyashiki: Iwate Prefectural Museum (formerly Iwaizumicho)
owner
Iwate Prefecture
Holding group
Management organization
home page
Iwate Prefectural Museum (exhibition room guidance)
Overview
Column line 17.7m, cross beam 9.1m.
East surface protrusion column row 8.5 m, beam interval 7.0 m.
寄 茅 葺.
There is no clear data on the construction age, but it is estimated to be in the middle of the 18th century.
Iwaizumi-cho, where the building was located, is a deep mountain village, and most of the buildings are archers, and the Sasaki house has a standard size as an archer.
As for the plane, the main part and the mounting part of the stable are in the space between the frontage 1, and the main part has two rooms, "Course area" and "True", on the back side of the space. In the back of the room there are two rooms, and on top of that, there are two rooms.
As a farmer in the northern part of Iwate Prefecture, it is a valuable remains that has both an old form and a plan, and a structure well, and keeps the old condition well.
It was donated to Iwate Prefecture in 1975, and relocated as an outdoor exhibition facility of the prefectural museum in 1959.