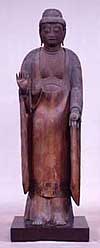 | | |
| --- | --- |
| Pseudonym reading | New Year's Eve |
| Specified type | Prefecture designation |
| Type | Sculpture |
| Designated date | April 5, 1954 |
| Specified details | |
| quantity | 1 body |
| location | Ichinoseki City Senjocho Okudama |
| owner | Daikoji Temple |
| Holding group | |
| Management organization | |
| home page | Ichinoseki City (Semayacho cultural property) |
Overview
Image height 153.2 cm.
Wooden, one wooden.
The head has a back, a backrest and a back plate at the front and back.
Wear a formal coat, make a right hand hump, take a form with the palm in front.
Align the legs and stand upright on the rock.
There is a trace of coloring in the coat, and in particular, the hem pattern of the Fujiwara era is left in the hem, and it is valuable as a research material of Heian pattern.
The whole is a late Heian period, with regional characteristics.
The pedestal is a complement.