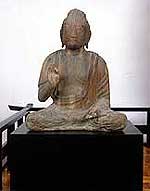 | | |
| --- | --- |
| Pseudonym reading | Also, |
| Specified type | Prefecture designation |
| Type | Sculpture |
| Designated date | April 5, 1954 |
| Specified details | |
| quantity | 1 body |
| location | Ofunato-shi Yodogawacho Jade Haseido |
| owner | Haseji Temple |
| Holding group | |
| Management organization | |
| home page | |
Overview
Image height 71.2 cm.
It is made of wooden, Katsura, Yaki, lacquered foil.
In front of the shoulders and knees, he is devoid of hair, hair and ear loops.
Put on the Sanchi-no-michi, right-handed crotch, twist the first and second fingers in front of your palm, rest your wrist (loss) on your left knee, and sit down with your right foot outside.
There is no pedestal and no light back, and it is a supplement from the right shoulder braised section.
This is a late Heian period work, and the face, the crest of the crest, and the old style are recognized and valuable.