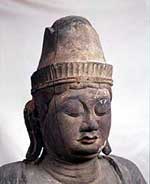 | | |
| --- | --- |
| Pseudonym reading | Japanese language school |
| Specified type | Prefecture designation |
| Type | Sculpture |
| Designated date | April 5, 1954 |
| Specified details | |
| quantity | 1 body |
| location | Ichinoseki City Nakazato Ohirayama |
| owner | Eisenji Temple |
| Holding group | |
| Management organization | |
| home page | |
Overview
Image height 168.7 cm.
Wooden, zelkova, one wooden.
A shirtless shirt, a narrow vest, a tight shoulder, a body, and a bare line close to the body line.
Originally, it seems that coloring was given, but the present condition is like a raw wood, and this has shown the beauty as a sculpture on the contrary.
It is considered to be one of the early Buddhist statues in which Buddhism entered the prefecture, and the one that conveys the Kannon is a rare and valuable work in the prefecture.
image